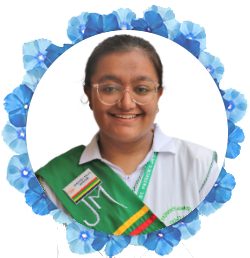 "The greatest leader is not necessarily the one who does the greatest things. He is the one who gets the people to do the greatest things. ~ Ronald Reagon
It is a matter of illustrious honour to be the Head Girl of an Institution as Prestigious as St. Patrick's Junior College which not only excels in imparting Academic education but also moulds the youth of today into the Leaders of Tomorrow. Wherefore I'm truly beholden to our Principal, Rev Sr. Leena for finding me qualified enough to uphold this responsibility and to our Respected Teachers for believing in my capabilities.
A leader is the one who knows the way goes the way and shows the way. ~By John Maxwell
Being in the Capacity of the Head Girl is not limited to wearing the Batch and the Sash, it is the task of being the voice of the thousands of students who look up to you as your representative and its a commitment of executing the duties in your utmost capacity.
A true leader is not the one who strives for perfection, rather the one who is not afraid of making mistakes and trods on unprecedented paths and lead his/her team maintaining the strong relationship and respecting everybody's opinion. I promise to shoulder the responsibilities with the best of my abilities.
Fostering the values laid down by our Mother Foundress St.Claudine Thevenet, maintaining the discipline and being a friend and guide to my team and fellow students, and that the flag of my school flutters proudly, tops my list of priorities. A team is the one with differentiated opinions but the leader is the one who binds them together. It is my duty to preserve the spirit of team work and respect in the Cabinet.
I promise to work very hard with all my zeal, devotion and determination trying on my best and working persistently for the excellence of our school.
A journey onto which I embarked upon 13 years ago, taught me to soar high in the sky, spreading goodness all around. I will forever be indebted to St. Patrick's for shaping me into the confident person I am today.
Thank you.
KAASHYAPI GOLANI
(Head Girl)